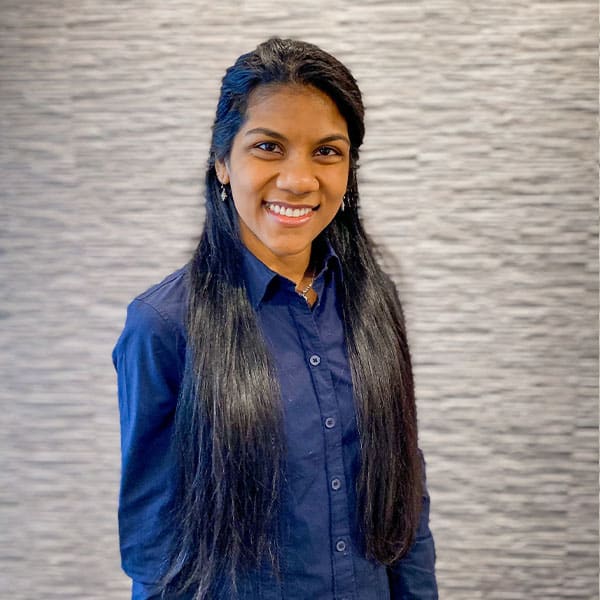 Dr. Kanagaratnam, DDS
General Dentist
McGill University
Born and raised in Montreal, Dr. Nabitha knew at a young age that she wanted to serve the community in healthcare. However, it was only as she was completing her Bachelor of Science in Anatomy and Cell Biology at McGill University that she developed an interest in oral health.
As she continued her studies at McGill, her passion for dentistry grew even more. Dr. Nabitha graduated on the Dean's Honour List and earned the Dr. A.L. Walsh Prize for meritorious achievement in oral medicine and the McGill Alumnae Society Prize for excellence and high academic standing.
Dr. Nabitha later ventured to New York to expand her training by completing a hospital-based General Practice Residency program at Faxton-St.Luke's Healthcare. There, she treated a range of patients, from infants to the elderly and the medically compromised. She also advanced her skills in Oral Surgery, Prosthodontics, Periodontics, Pedodontics, Endodontics, limited Orthodontics, Anesthesia and Emergency Dentistry. Dr. Nabitha has specific interests in dental surgeries and pediatric dentistry.
Following residency, she worked at a private dental practice in New York before returning to Canada.
She is currently a member of the Ontario Dental Association and the Royal College of Dental Surgeons of Ontario. To provide her patients with dental care, she strives to remain up-to-date in the world of modern dentistry. Over the last few years, she has invested her time and effort in continuing education courses to improve her knowledge and expand her clinical expertise in various domains such as implants, orthodontics and sedation.
Apart from treating patients, she loves spending quality time with family and friends. Whether it be going on a trip, working on a house project or laughing together over meals, she prioritizes and values time with her loved ones. Dr. Nabitha is a firm believer in leading an active and healthy lifestyle and enjoys running, dancing and weight training.
Fluent in English, French and Tamil, she also has a passion for learning languages and discovering different cultures.